04 Jun 14
A*STAR-Hellma Partner Up to Innovate Manufacturing Processes
MEDIA RELEASE
FOR IMMEDIATE RELEASE
A*STAR-HELLMA PARTNER UP TO INNOVATE MANUFACTURING PROCESSES
Hellma Analytics, a leading company in optics analysis technologies, partners with A*STAR to advance the pharmaceuticals and specialty chemicals manufacturing.
Singapore – A*STAR's Institute of Chemical and Engineering Sciences (ICES) has partnered Hellma Analytics (Hellma) to co-develop next generation manufacturing technologies for the pharmaceutical and specialty chemicals sectors. Hellma has joined the A*STAR consortium on Innovative Processing for Specialties and Pharmaceuticals (iPSP) to drive innovative manufacturing solutions aimed at achieving cost, quality, process and environmental improvements.
Integrating Core Competencies for Greater R&D Impact
The iPSP consortium was launched in June 2013, bringing together several leading biopharmaceutical and specialty chemical manufacturers to bolster R&D for manufacturing processes and practices, and collectively accelerate pharmaceuticals and specialty chemical developments in the region.
ICES' expertise in chemistry, chemical engineering, analytics, control, formulation science and catalysis complements Hellma's pioneering knowledge in process analytical technology (PAT).1 PAT is also one of the key research themes in the iPSP consortium. Hellma offers a comprehensive range of research tools and facilities that will simplify the monitoring of scaled-up processes bringing greater clarity and speed to the research process.
Mr. Lutz Mayer, General Director of the Hellma Group, said: "With the spirit of a pioneer, Hellma Analytics launched the first optical immersion probes in 1995 to make process control more efficient and safe. For us, this was the start of a process-revolution to decrease costs, improve manufacturing performance and create responsiveness in production and processes. Together with industry partners, we work today at the leading edge of the development of innovative processing for pharmaceutical and specialties chemicals manufacturing."
Global Connectivity, Diversified Capabilities and Resources
Dr. Keith Carpenter, Executive Director of ICES, said, "The iPSP consortium has been operating for over a year now, and it is already clear that our industrial partners have brought insight and an understanding of industrial relevance to the research programme. Both are invaluable for us to ensure that the research has impact in a real world environment. With Hellma's accession, we are extending the understanding along the technology supply chain, ensuring that all aspects of active pharmaceutical ingredient can be brought together to provide an integrated solution."
Pharmaceuticals manufacturing is a key contributor of Singapore's biomedical manufacturing output. In EDB's monthly manufacturing study for the biomedical manufacturing sector, the pharmaceuticals segment registered a 19.4% growth when compared to a year ago.2 Also, Singapore's biomedical manufacturing investments have more than doubled, from S$315.9 million in 2012 to S$806.65 million in 2013.3
Dr. Paul Sharratt, Programme Director for the iPSP consortium, said, "With the focus on improving our understanding of the underlying science, the ability to track in-line the behaviour of chemical reactions is very important. Hellma's participation will give us a window into the chemistry that will ultimately allow us to develop better, more efficient and robust processes."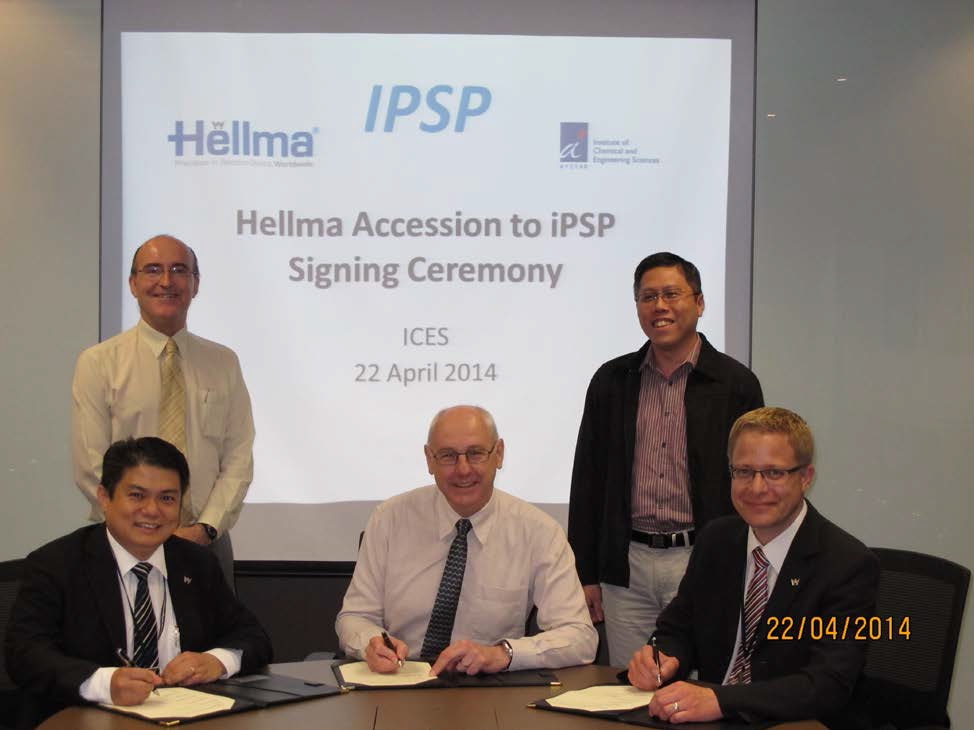 A*STAR Signing Ceremony with Hellma
Seated (L-R): Mr Andrew Lee (Managing Director, Hellma Asia Pacific), Dr. Keith Carpenter (Executive Director, ICES), Mr Holm Kändler (Business Development Technical Director, Hellma GmbH & Co., KG).
Standing (L-R): Dr. Paul Sharratt (Programme Director for the iPSP consortium), Dr. Chew Wee (Scientist, ICES)
---
1 Pharmaceuticals manufacturers are under increasing pressure by regulatory authorities to produce products of consistent quality. This is also of utmost importance for manufacturers to uphold good manufacturing brand equity and reputation. It is essential for the manufacturers to understand and design new processes to achieve better quality control across the manufacturing line. PAT has been identified by the US Food and Drug Administration as critical for the understanding of such processes to achieve consistency in product quality
2 Source: EDB Monthly Manufacturing Performance - March 2014
3 Source: Economic Survey of Singapore - Investment Commitments in Manufacturing and Services
-ENDS-
---
For media queries and clarifications, please contact:
Esmond Chong
Officer, Corporate Communications
Agency for Science, Technology and Research
Tel.: +65 6419 1155 Hp: +65 9027 7857
Email: This email address is being protected from spambots. You need JavaScript enabled to view it.
For technical or collaboration enquiries, please contact:
Tan Joo Lett
Industry Development Manager
Institute of Chemical and Engineering Sciences (ICES)
Agency for Science, Technology and Research
Tel.: +65 6796 3973
Email: This email address is being protected from spambots. You need JavaScript enabled to view it.
---
About the Institute of Chemical and Engineering Sciences (ICES)
Institute of Chemical and Engineering Sciences (ICES) is a member of the Agency for Science, Technology and Research (A*STAR). Established in 2002, its mission is to support economic growth in Singapore through world class scientific research, developing novel technology and nurturing creative scientists and engineers. The research area covers chemistry and chemical engineering science, combined with advanced analytical characterization and measurement to develop state of the art technology for the petrochemical, general chemical, fine chemical and pharmaceutical industries. For more information, visit www.ices.a-star.edu.sg.
About the Agency for Science, Technology and Research (A*STAR)
The Agency for Science, Technology and Research (A*STAR) is Singapore's lead public sector agency that fosters world-class scientific research and talent to drive economic growth and transform Singapore into a vibrant knowledge-based and innovation driven economy.
In line with its mission-oriented mandate, A*STAR spearheads research and development in fields that are essential to growing Singapore's manufacturing sector and catalysing new growth industries. A*STAR supports these economic clusters by providing intellectual, human and industrial capital to its partners in industry.
A*STAR oversees 18 biomedical sciences and physical sciences and engineering research entities, located in Biopolis and Fusionopolis, as well as their vicinity. These two R&D hubs house a bustling and diverse community of local and international research scientists and engineers from A*STAR's research entities as well as a growing number of corporate laboratories.
For more information on A*STAR, please visit www.a-star.edu.sg.
About Hellma GmbH & Co
Hellma Analytics is the world leader for optical analysis technologies made out of glass and quartz. Its high-quality, precise solutions provide the basis for the achievement of reliable measurement in production, quality assurance and research. Thanks to its outstanding performance level and consulting expertise, Hellma Analytics is the preferred partner for manufacturers and end users around the world. Hellma has its own 12 subsidiaries as well as representatives in over 50 countries.
ABOUT US
insta bioAnalytik was set up in Year 2000 as a sales and marketing office, offering solutions for the scientific and medical communities... more